NAVY Series
5-axis machining center ideal to meet the needs of the marine industry and the production of large models.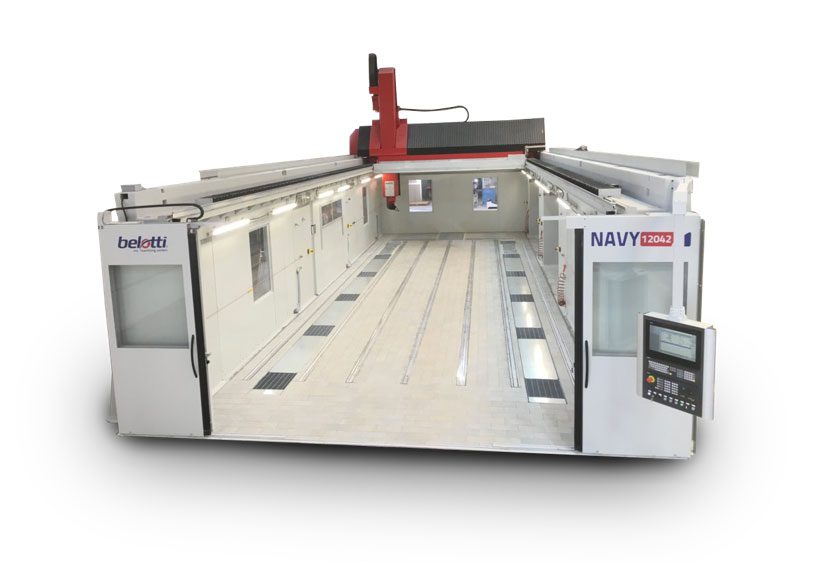 NAVY 5-axis machining centres are designed to meet the most important requirements of the marine and patterns & moulds large models sectors.
The wide range of models and configurations allows to satisfy every dimensional and technological need.
Description
The Belotti NAVY series offers cnc machining centers geared to the peculiarities of shipyards.
Thanks to the wide choice of different sizes and machine configurations, NAVY is a versatile solution, allowing to process both the models and the final and structural parts of a medium-size boat: cutting resin models, trimming fiberglass hulls and other high resistance composite materials.
With a single advanced and multifunctional machining center, maximum flexibility is obtained, being able to perform any type of modeling and trimming operation on hulls, decks and components without distinction.
Customers who have chosen a Belotti NAVY milling machine have quickly increased their quality and construction efficiency, also benefiting from a significant improvement in the quality of the working environment, thanks to the many options proposed, such as suction systems and active and passive safety devices.
Information request
For more information, do not hesitate to contact us.
Sectors
Marine
Patterns and moulds
Railway
Energy and building
Technical features
Axis
X
Y
Z
C
A
Stroke
2,6/6/8/12/17/20/23/30/43 m
4,2/6,2/7,2/8,8 m
1,5/2/3/3,3/4/4,2/5,3/6,9 m
+/- 270°
+/-120°
Speed
100 m/min
45 m/min
44 rpm
40 rpm
Spindle
From 15 kW up to 42 kW at 24.000 rpm max.
CNC
Siemens,Heidenhain, Fanuc
Tool change
From 18 to 60 positions
Linear accuracy
≤ 0,035mm/m for linear axes
Rotary accuracy
+/- 24 arc sec for rotary axes
Accessories
Information request
For more information about our products or a non-binding consultation fill out the form.