NOVA Series
Multi-axis machining centers for milling a variation of different sized products and for profiling large scale parts out of aluminium, technical plastic and composite panels.
BELOTTI NOVA 3 and 5-axis machining centers are the result of the long experience achieved in over 40 years of activity in the production of machines for milling aluminium, composite materials and plastics.
The NOVA Series represents the answer to the strong demand of the leading industries in the packaging, aeronautical and automotive sectors.
Description
Belotti NOVA cnc machining centers consist of a sturdy monolithic structure equipped with double guides on both sides of the base, which guarantee maximum rigidity of the gantry during processing.
The mobile bridge and the presence of a double motor on both sides (Dual Drive System) allow the processing of large pieces, while preserving the quality of the series.
Available with 3-axis and 5-axis heads, NOVA cnc machining centers can process various materials such as aluminium, light alloys, composite materials, plastics and technical plastics, ensuring high performance thanks to 15 or 30 kW electrospindles and top-of-the-range clamping systems. The 5-axis head, optional, compact and equipped with axis locking brakes and Heidenhain encoders, allows the machining of parts with complex shapes, guaranteeing quality and precision. The ease and speed of tooling, thanks to the laser piece centering systems, make the NOVA Series extremely performing: the result is a machining center that allows customers to increase productivity and competitiveness.
CSRS (Caterpillar Stack Routing System) is the specially designed and patented accessory, which responds to the need to process multiple aluminium sheets in packs.
Information request
For more information, do not hesitate to contact us.
Sectors
Packaging
Checking fixtures
Aerospace
Automotive
Design and furniture
Railway
Marine
Energy and building
Military
Materials
Aluminium panels
Light alloys
Composites
Plastic
Technical plastic
Technical features
Axis
X
Y
Z
C
A
Stroke
2/3/4/5/6/10 m
1,6/2/2,5/3 m
0,3/0,5 m
+/- 270°
+/- 120°
Speed
50 m/min
30m/min
44 rpm
40 rpm
Spindle
From 15 kW up to 30 kW at 30.000 rpm max.
CNC
Siemens, Heidenhain, Fanuc
Tool change
From 12 to 60 positions, also with exchange arm
Linear accuracy
< 0,009 mm/m for linear axes
Rotary accuracy
+/- 12 arc sec for rotary axes
Measurement system
Heidenhain absolute linear glass scales, 5 micron resolution
Accessories
Linear scales
Double motor
Aluminium vacuum table with MDF panel
Aluminium table on which MDF panels are screwed, especially designed for machining of aluminium plates.
The table is divided into 12 areas, with dimensions to be defined, that can be automatically managed by the CNC. It is equipped with vacuum electrovalves and preset vacuometers to check the minimum vacuum level on the part for safe clamping.
In case mechanical clamping is needed, the MDF panel can be removed.
Upon request, it will be possible to provide multiple rapid connections for vacuum clamping.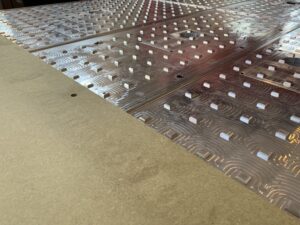 5-axis high performance head up to 22 kW
Electronic suction hood for 3-axis head
Scraps suction hood used with 3-axis machining, electronically controlled.
In a range of 180 mm the electronic hood automatically adjusts its extension according to the real distance from the part.
The hood automatically retracts during the tool changer.
The dust suction hood performance may vary according to the part geometry, to the material and to the machining strategy.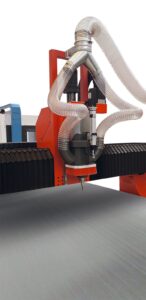 Minimal lubrication system through the spindle
Centralized grease system, complete with pressure control and minimum level in the tank, which provides for the automatic lubrication of the moving parts. Lubrication is managed by NC in fully automatic mode and allows an extension of the life of the mechanical parts.
CSRS - Caterpillar Stack Routing System
Information request
For more information about our products or a non-binding consultation fill out the form.