Waterjet
A technology with maximum versatility for fields of application and cutting geometries.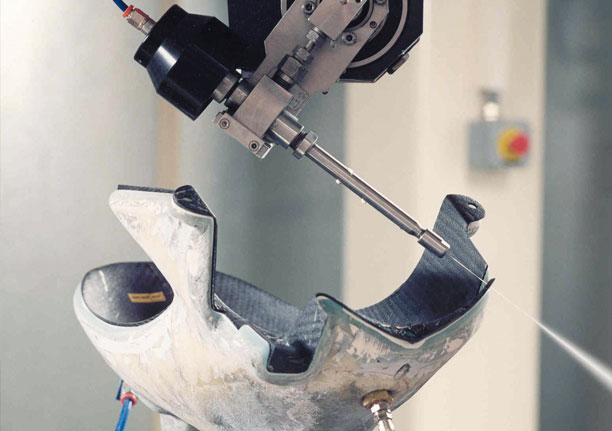 The flexibility of water cutting technology lends itself to the processing of multiple materials in all civil and industrial sectors. In addition to composite materials, Waterjet technology can be used for metal materials processing.
Description
Waterjet technology by Belotti allows customers to work the most diverse materials with very high precision and speed, avoiding any deformations due to thermal and mechanical stress thanks to the "cold" cutting.
The low percentage of scraps and minimal tool wear make this technology very economical as well as low environmental impact.
The pressurized water flow at over 4,000 bar and is sent into an orifice with a diameter between 0.1 and 0.30 cm which transforms the pressure into a high-speed jet of pure water or with the addition of abrasive (to work also thicker and thicker materials).
The combination of Waterjet technology with milling is ideal for special processes, in which delamination of the material must be avoided and the quality of the cut must be guaranteed with an accuracy to the tenth of a millimeter.
Information request
For more information, do not hesitate to contact us.
Sectors
Aerospace
Automotive
Railway
Marine
Design and furniture
Medical
Military
Thermoformed
Patterns and moulds
Materials
Aluminium panels
Composites
Information request
For more information about our products or a non-binding consultation fill out the form.